If you've been here a while, you know that I long ago turned what is supposed to be my formal dining room into a playroom.
Long story short, all of the bedrooms are upstairs so toys were constantly being dragged down and there really wasn't a place to keep them.  Junk was forever strewn throughout my living room and it made me crazy.  My kids are young, and while there will come a day when they want nothing more but to be up in their rooms away from us, now is not that time.  For now, they pretty much want to be on the same floor of the house that I am in at all times.
Besides, for as much as I love entertaining, a fancy dining room table with pretty centerpieces is impractical at this stage in our life.  Seems silly to devote an entire room in the center of my house to something just because That's The Way It's Supposed To Be.  And then trip all over dolls and Legos in the living room.
The room has evolved from being a harbinger of toys to more of a school room.  We do a hybrid homeschool, and I like to encourage my kids to do something un-screenish…so having a work space is essential at this point.
A quick progression…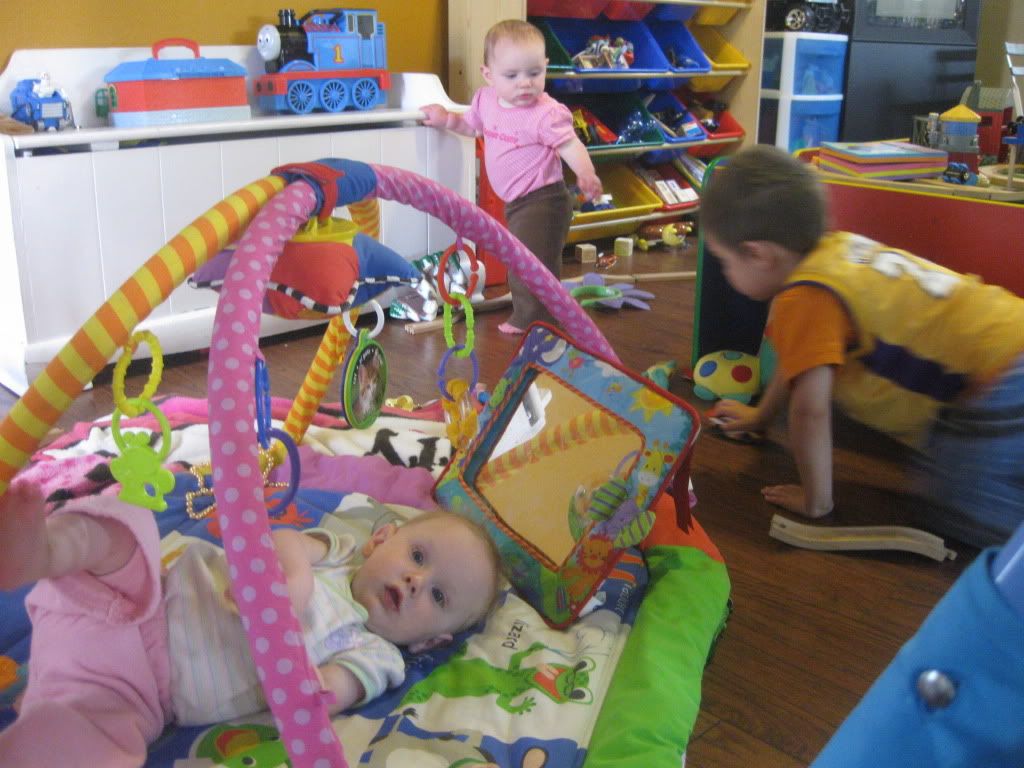 Toys, toys, all the time toys.
And cute babies on mats.  My favorite.
The transition to more "real" furniture began as the kids outgrew the clunky baby toys, and I was wanted to strike a balance between Functional and Dude This Is My House.
The table in the picture above is darling, but you couldn't get two coloring books on it without overlapping and causing drama llama.
It's stayed mostly the same for a while, but I found a small kitchen table on Craigslist to give us more table room and cut down the legs to make it kid friendly.
Cute.  Loved it.
Except that it still drove me kinda batty.
The problem was that I was hodge podging things together with whatever I could find.  This little toy box for trucks…this old cabinet from the living room for art supplies…a plastic laundry basket for dolls… The result was a lot of small pieces of furniture, which made the room feel cluttered.  Even when it was cleaned up.  In fact, because everything had to be Just So to fit when put away, the kids had a hard time with clean up because things had to be stacked and arranged perfectly, or it wouldn't all fit.
Also, those cute little red school chairs are adorable, but sit at them all hunched over for more than a few minutes, and this old lady's back was on fire on homeschool days.
I asked my dad (an incredibly talented carpenter) if he would make me a corner shelving unit.  Just something that would hold supplies and clean up that back corner of the room.
He came over, did some measuring…and built me this:
Hate me.
Right?!
I'm a spoiled brat.  I know these things.  Custom built furniture that is 100 times better than you even asked for?
Those drawers are GIANT.
I have board games in one and a big file box of construction paper and stickers in the other.  And there's STILL room.
You might recognize the pink stool…it was Auntie's old stool (which would be like Andy's great grandma) that I spray painted and "reupholstered".  The yellow one was Andy's dad's when he was a kid.  It was rusty and in bad shape cosmetically, but some steel wool, elbow grease, and spray paint made it looks good as almost new.
There is something so special to me about seeing my kids using something that has been used for generations.  Like, it makes me kinda tear up thinking about it.
Grandpa's yellow chair and Great-Great-Grandma's pink stool.  With my kids' bottoms in them.  Precious.
Nice, deep shelves hold colorful bins of supplies.
Everything has a place and isn't a delicately balanced puzzle to make it all fit.  I could cry it makes me so happy.
(Cardboard magazine boxes on the top shelf and bins on the bottom from the Target Dollar Spot, wire bins from Target…on clearance so I don't think they have them anymore.  Three tier wire bin from Land of Nod.  No affiliation.  Just FYI.)
 Fun wire bins hold some of my craft supplies.
Twine makes me irrationally happy.
But I'm stingy with it.  Because I'm terrified I'll waste it and run out.
Remember when stamping was totally in?
This is only about half of what I used to own…but I sold a bunch of it at a yard sale a few years ago.  My kids love playing with these.  Funny how not that long ago I would have been appalled to think of letting grubby fingers near these.  Now I'm like "Meh.  Go for it."
 Hi, my name is Jeannett and I hoard glitter.
One would think I'm an avid crafter for as much glitter as I own.
I can't resist a bottle of shimmering color when it's on clearance.
But the mess it makes gives me anxiety…and then there's that whole I Don't Want To Waste It thing again.
Some of those bottles are literally from my childhood.
And they're still 3/4 full.
Because neurosis begins young.
The other side of the room is a bedroom dresser I found on Craigslist, sloppily painted white and now holds small toys, trains, and puzzles.
The top is also handy for making construction paper runways.
I love that there is a giant desk area for creating, and still plenty of space for playing on the floor with this set up.
I do not love that the only window in the room is the size of a postage stamp.
Dear Builders of My House,
Seriously?  Really? Would it have killed your budget that badly to put in a window that wasn't intended for a dollhouse?
Love,
-j
There is so much space to spread out now.  And even with the teeny tiny newborn baby window, it's nice to work right by (some) natural sunlight.
Although, I'm considering getting one of these
.  It's just dark and kinda dreary in that room.  Even more so in the winter.
A lazy susan and tins from the Target dollar spot (which I obviously frequent…A LOT) hold crayons, pencils, chalk, and other assorted supplies.
I cannot wait to refill these bad boys with brand new, perfectly sharpened, sweet smelling back to school supplies.
Brand new crayons will never lose their luster.  Not even if I'm 100 years old.
My kids managed to convince me to buy them plastic gemstones from the craft store.
They wanted them for "a project".
Turns out that plastic fake gems are expensive.
But they are significantly cheaper (by the ounce) if you buy a one pound bag.
 A one pound bag of itty bitty teeny tiny plastic gems.
Brilliant, Jeannett.  Best move ever.
I can't imagine how many of these have seen the insides of Owen's digestive system.

The funny thing is that I'm not sure that "project" ever actually happened.
But the bigs love sorting them by color into those little jelly jars on the top shelf…and Jill loves just playing with them.  She's always had an affinity for teeny things.  She often motions to sit at the desk and then asks for the bin of yet to be sorted gems…and just plays.  I don't really know what she's doing, but she's quiet and happy.  Which basically means I'm happy.
I know you've noticed it.
How could you not?!
The gorgeous, huge, colorful, show stopper canvas.
My friend Meg is a lot of things…a lover of rainbow saturated color…a talented photographer…a mama to five…an advocate for Good.  She recently opened up a shop too.  Filled with prints and canvases of her favorite photos, and even some vintage finds.
I've long been coveting her canvases (canvi?), but never really had a spot in my house for one.  Imagine my delight when the planets aligned and my room rearrangement resulted in a giant blank space and Meg asked if she could send me one in exchange for some blog space?
Twist my arm.
 My shoddy pictures do not do it justice.
2 feet wide by 3 feet tall of happy, glorious color.
All in wrapped canvas perfection.
It took me an inordinate (read: obsessive) amount of time to pick my favorite.
I kept going back and forth between the gumball machine, the watercolors, or the cupcake.
I think I made the right decision.  Pretty sure.  Mostly.  They're just all so happyawesome.
So there you go.
My playroom.  Again.  But this time, it's gonna stay this way for a long while.
Have you used a room unconventionally?  Have you checked out Meg's shop yet?  Which is your favorite of her images? Homeschooling will be a breeze now, right?  Right?  Right.  Ahem.