Valentine's Day.  The day of love.  Hearts.  All things pink and red.
And Mommy Angst.
I posted some pictures of the Valentines I put together for Henry and the ones that Lucy picked out this year.
Not thinking much more of it other than simple social media sharing, I was surprised by the response.  Almost immediately, there were comments of "I'm a slacker, my kids got the tear apart cards" and "My poor kids got the box from the store.  Maybe next year…"
On the flip side, as I scrolled through my insta stream, I saw moms snapping pics of kids making individual, personalized, glitter and sequin bedazzled cards for each of the 30 kids in their class…making my print and staple versions look pretty hokey.
But really, I shouldn't have been surprised.  Because we moms do this to ourselves.  I don't think blogs and social media have caused this game of comparison and shaming (of ourselves or others), but it's certainly heightened things.
Even without blogs, we size each other up at the play ground, at school pick up, Sunday church, and even by the items in each other's grocery store carts.  Preservatives?  Sodium?  Are those bananas organic?  LUCKY CHARMS???!!!  No wonder her kids are so hyper!  Humph.
I could go on and on.  But, there have been far better blog posts written on the topic.
I guess the angle I want to take is this:
Your kids are not "poor kids" because you buy the box of Dora cards from WalMart.
I know this.  Truly.  And do you want to know HOW I know this  with absolute certainty?
Because I grew up in lower middle class suburbs of Los Angeles.  Raised by a Portuguese grandmother who knew nothing of crafts, acrylic paints, or Tacky Glue.  Frankly, she probably didn't even know what the heck Valentine's Day was, except that I certainly knew and begged her to buy me a pack of Rainbow Brite cards and some Smarties or a pack of Rolos to scotch tape on top.
Were there kids in my class that brought handmade cards and fancy cupcakes?  Probably.  But you know what?  I don't really know.  Because I don't remember.  It didn't stand out.  Not the fact that someone else's mom was the secret DIY blogger before her time, nor because I felt bad that I had the pre-printed kind that had the bumpy tear apart edges.  I was just stoked that I got to skip around my classroom and deposit candy to my friends.  Period.  (although I did totally stress if I ripped a corner)
Do you really think my kids care one iota that I surfed Pinterest, downloaded a free printable, and put together a somewhat homemade treat?
No.  No they do not.
Do you think my kids would have felt slighted if they showed up to school with the same Valentines as their friend?  No…in fact, they'd probably be jazzed.
So why did I bother?  If I don't believe I am a better mother for it…and if my kids don't even really care (or notice!), why would I bother at all???
Because I want to.
That's it.
I have a couple of crafty bones in my body and making Valentines is fun to me.  Did you catch that?  This isn't so much about my kids as it is about me being able to do something somewhat creative and fun and easy and quick.  It's MY creative outlet…that I can actually start and finish in a somewhat timely manner.  (Although let's be honest here people…I'm not inventing these Valentines, I'm straight COPYING them.)
Look, this same thing happens every Halloween.
I make/put together Halloween costumes for my kids.  One year it was all about the Disney princesses and last year we went uber nerdy with Star Wars.
I sewed, hot glued, thrifted, felt cut out, and even made the treat bags to match.  I loved it.  I love how they turned out and I loved the process.   Oh yes, yes I did. And there were plenty of folks who saw my pictures and bemoaned their store bought versions.
Am I a better mom because I didn't just buy the polyester gig at Costco and a neon pumpkin pail?  Do I pull out my Judging Eyes because you did?
Nope.
You wanna know my all time favorite Halloween costume as a kid?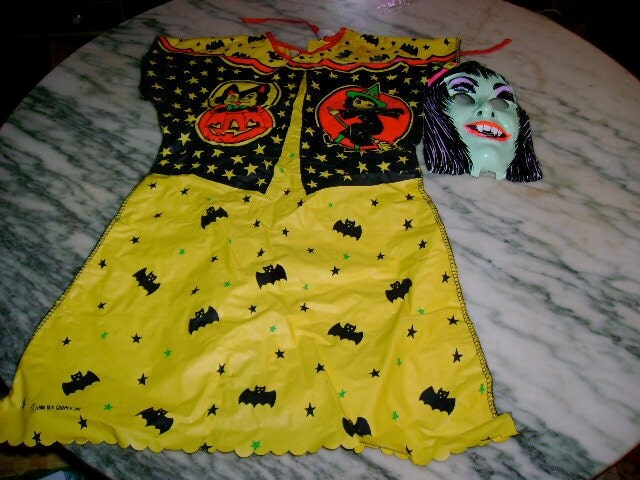 Boom.
The plastic witch mask and weird rubbery bag dress.  I distinctly remember what that plastic smells like.  I rocked that stupid mask.  I thought for sure everyone thought I was a witch in real life.  I was legit.
The fact that my grandma took me to Woolworth's and had me pick out from the cheapest rack of costumes did not once enter my little kid mind.
In fact, I'm secretly bummed that it's sold…because I pretty much want to buy it.  Just to have.  Nostalgia makes you want to spend money in weird ways.
Are there moms that wear a chip on their shoulders because they do the handmade deal?  Oh totally.  I will have you know that I have seen the moms who write things like "Just because you are too lazy or unwilling to do these special things for your kids…" 
SERIOUSLY?!
Get. a. life.
You do this stuff because YOU like it.  You do this stuff because YOU think its fun.  And that's okay.  It's not a bad thing.  I mean, hello? I'm doing it too!  Will your kids get a kick out it?  Totally.  Will it make up some of their childhood memories?  No doubt.  Smiles all around.
But please don't make more of it than it is.
Your kids will like whatever you do.  Whether it is homemade or store bought.  Rock your favorite method to your heart's content, but don't turn it into some measure of your worth or efficacy as a parent.  Your kids just want YOU.  Your attention.  Your love.  Your time.  The details are just details.  As my husband would say "They're in the noise."
Do not define your motherhood by your DIY skills.  Or lack thereof.
Look, you wanna know what would make me a way better mom?
If I didn't yell at my kids so dang much.
If I took them to the park more.
If I spent time imparting God's grace and love.
If I was intentional in teaching them to love and serve others.
THAT'S the stuff that makes me and you a better mom.
Not that I will make pink, heart shaped pancakes tomorrow morning and serve them with strawberry milk.  Yes, that is what is for breakfast tomorrow at the Casa de Gibson.  Will my kids remember Valentine's Day breakfasts?  Probably.  But I promise you that if you toss a bowl of Trix in front of your kids tomorrow morning…they're not gonna freak out and need therapy for it.
They'll need therapy.  But not for that.
So just relax, take a deep breath, and rock on with your bad mama self.  Store bought or blogworthy.