Halloween.  It's kinda that perfect mix of creative challenge and just enough DIY to make me dig it.
For now, I'm taking full advantage of geeking out my family and sticking with a theme.  I figure that I only have a few more years before the kids have specific requests for costumes, so I'll make them what I want to make them while I can.
As I brainstormed different themes with enough characters for the six of us, Star Wars came to mind.
And I totally wished we  had at least two more kids.
Because we really needed an ewok and a Princess Leia.
And a Chewbacca.
A baby Jabba?  Hysterical.
But I digress.
Now, I have a confession to make: I've never seen the movies.
I know, I know.  You're all aghast.  Simmer down.
It's just not my thing.  Classic or not.
But my kids like it.  And the husband likes it.  I'm the lone Star Wars poseur of the group.
Case in point: I thought it was all cute and dorky-romantic that I was Padme.
My understanding was that she was Darth Vadar's wife.  I mean, that's cute in dorky-we-go-to-comic-book-conventions-way, right?
Except that I'm apparently committing some kind of Star Wars blasphemy by "crossing generations" or some such ridiculousness.
Also, it turns out that by the time the dude turns into Darth Vadar she's dead.
Whatever.
I tried.
I knew nothing of (FAKE) rules and (MADE UP) storylines.
Besides, I kinda missed the mark anyway…Padme is pregnant in this outfit, and being that I was, actually, in real life pregnant just a few months ago, I couldn't bring myself to even PRETEND I was pregnant again.
Not to mention that Natalie Portman should win an award for the Best Eyebrows in the History of Eyebrows…and mine are straight OUT OF CONTROL right now, so basically I'm totally out of character.
We met up with our friends the Reguscis and the Fosters for some trick or treating in a local downtown area.
It's in the afternoon and keeps things non-scary for the littles.
All three families have twins.
Gluttony for punishment is the thread that keeps us all friends.
Inspired by this, my mother in law made the girls their dresses.
I die.
C3PO and R2D2?
I'm not sure it gets much better.
Oh wait.
Fat Baby Yoda.
It does get better.
It has a karate jacket.
And a belt.
And TWO light sabers.
Boy. Heaven.
But the pictures that had me bawling?
LOOK. AT. MY. GIRL.
Just you LOOK AT HER.
Running.  Playing.  Laughing.
IN THE GRASS.
Sister helping?
In matching metallic boots.
I just can't take it.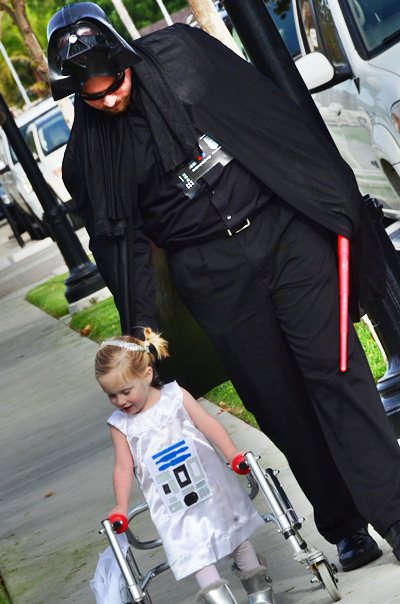 Darth has a soft side.
You saw it here first.
Lucy + light saber = DANGER.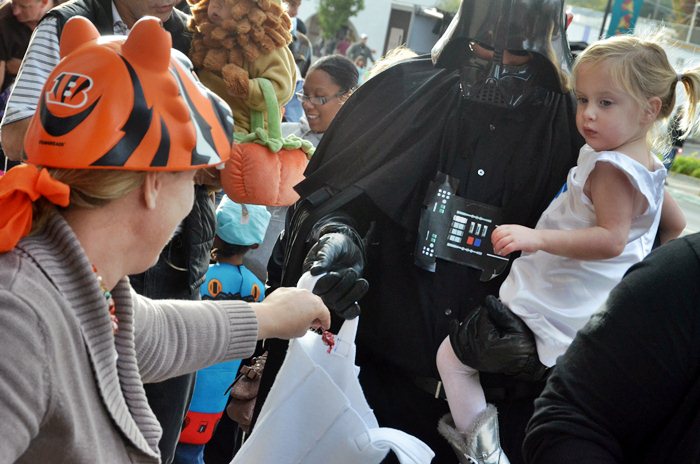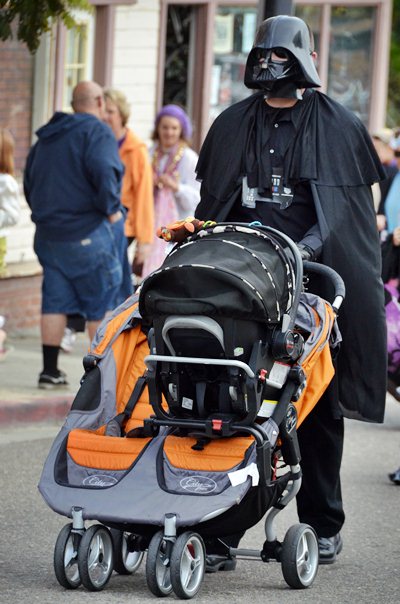 He's so hot.
Back off ladies.
(This picture totally looks like one of those paparazzi pictures you see in tabloids…"Stars are just like us!  They even push strollers!!!")
Tracy's 6 kids (yes, 6) were all animals…and she made shirts for her and her husband that said "Animal Control".
LOVE. IT.
Yoda Owen hates his car seat.
Thus requiring held all afternoon.
I'm pretty much buff now.
Every piece of candy was analyzed.
This girl couldn't understand why she couldn't all of the candy NOW.
It was exhausting.
But it was good exhausting.
We finished off the night with pizza and a quick jaunt of trick or treating in the neighborhood.
And then crashing.  Hard.
The kids were tired too.
Did you theme it up this year?
(Special thanks to Jamie who took just about every one of these pictures.   I jacked them all from his site.  With permission of course.)