I've shared before the progression of my playroom, but a quick recap:
My "playroom" is actually supposed to be the formal dining room.
Right off the living room and visible from the main part of the house.
When we first moved into a house with ALL white walls, I thought I'd get creative and paint one of the walls a pumpkin/squash orange-y color.
It was a moody, sorta romantic color that would help set the ambience for perfectly executed dinner parties.
I searched high and low for the perfect table…which I found for a steal at a ritzy model home sale.
Burled deep mahogany wood.
Pretty glass candlesticks.
Virgin Pottery Barn Candles.
So pretty.
So perfect.
And then one kid turned to three.
And that whole having-an-entire-room-dedicated-to-two-meals-a-year-while-your-living-room-is-littered-with-toys-because-there's-nowhere-else-for-them-to-go thing got old really quick.
So, much to my chagrin, I sold that pretty table (that needed dusted regularly) and added toys.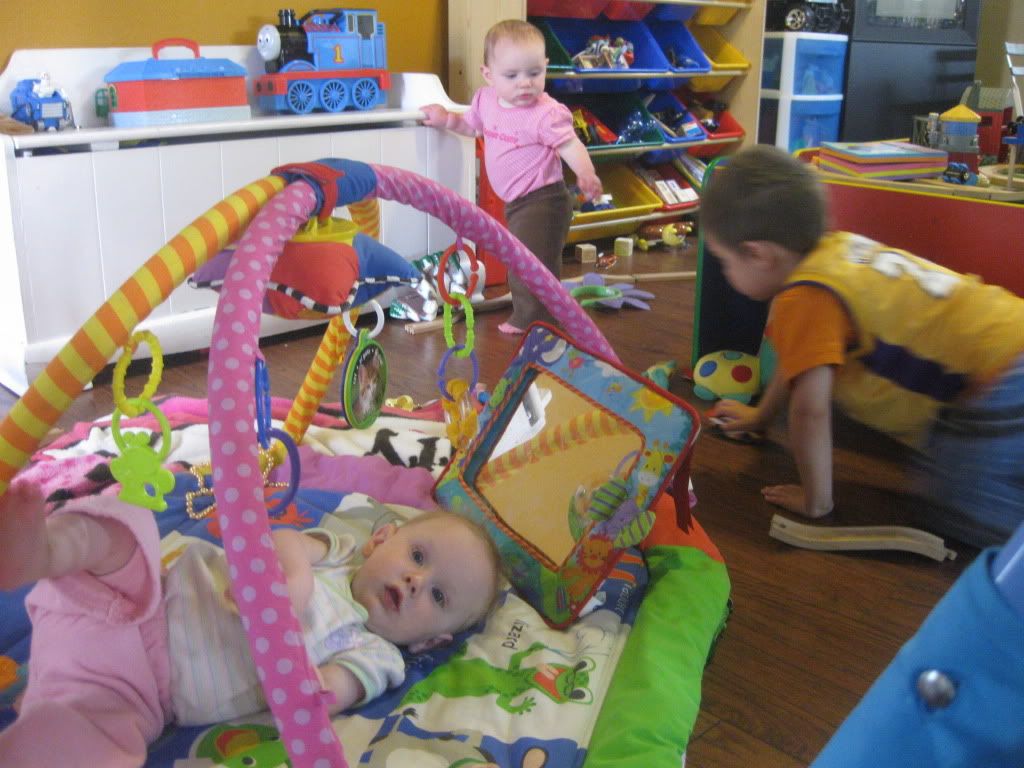 Truth is, I've never looked back.
The playroom is centrally located in the house where I can keep an eye on my kids easily.
And they don't feel disconnected from the rest of the family when they are playing.  (My kids are too young at this point to realistically play upstairs in their rooms.  It's just too far removed.)
And, my living room?  It's pretty much Company Ready all the time.  Or at least with 2 minutes' notice now that the toys have a dedicated space.
With time, the playroom has evolved based on the kids' ages and abilities and it's looking a little less cluttered these days.
(For the record, I have probably bought my kids five toys…total.  Ever.  Being the first grandchildren on both sides…well, let's just say that sometimes we have to have the "Do NOT buy the kids toys unless you are making a donation to Goodwill" talk.)
Over the last couple of years, my color palette has gone from deep reds, oranges and browns to brighter, lighter yellows, blues, and pinks.  (Ah, the beauty of paint and some accessories!)
That orange wall was bugging.
And, the whole intimate ambience thing for a dining room is fab, but translates into dark and dreary for a playroom.
So, armed with some leftover paint from Henry's room three years ago, moving some furniture around, and a few framed prints…
MUCH brighter, happier and playroom-esque!
The bright multi-color bins that used to house the toys were replaced with a Craigslist dresser that used to be country blue with handpainted roses.
Now, instead of the toys being visible and making the room feel cluttered even when they were all put away, they live hidden in drawers.  (The room being visible from the main part of the house is great for keeping an eye on kids, but hard to strike that balance between kid space and hello, this is my house! space).
Rainbow bunting re-used from my Queen Bee Market booth, colorful bowls from the $1 bins at Target hold random little toys that need to make their way home but we're in a hurry, and the black cupboard thing in the corner that used to hold all of our fancy barware, now holds organized bins of art supplies and playdoh.
This side of the room still looks really cluttered to me, but I'm not sure there's anything I can do about that since it's really about the train table…which the kids still play with….at least it's off to the side, right?
The curtains are my pretty dining room curtains turned around…that's actually the inside lining…but it's simple and good enough for now.
A corkboard for artwork, a blue bin for diapers and wipes, and an egg timer for clean up time ("I'm setting the timer for 5 minutes.  You must have the room cleaned up before it dings or…[insert consequence here].")
My favorite part is all of the fun little prints strewn about.
(Print from Blossom and Vine.)
I really, really, really didn't want to spend any money on this room update.
I used paint I already had in the garage, shopped my house, and re-arranged.  I was forced to buy a pint of primer because I was all out, but at the end of the day, I only spent $7.50 to completely re-do this room!!!
I have a stack of random frames from other parts of the house that have been re-done or moved around…some of which were too big for the prints I had.
I pulled some of my favorite fabrics from my fabric stash and just used them as "matting"!  Um, yes please!  I think I'm going to be doing this on purpose more often!
(I love You print from here.)
The alphabet in Portuguese is such a fun print…you hardly ever find anything in Portuguese!
Another example of a too big frame with fabric taking up the extra space.
And a print that is crooked in the frame…and I have yet to fix it.  Meh.
A free printable is probably my favorite part of the entire room.
The playroom.
That should be a formal dining room.
But isn't.
And while HGTV would have my head, it works for our family and that's really all that matters.
(Hey look, it's me!  In my yoga pants and a messy pony…otherwise known as The Uniform.)
Do you have a playroom?  Is it visible from the rest of the house?