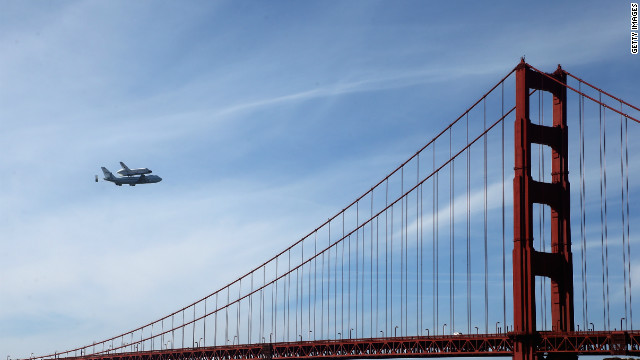 (Image pulled from CNN.)
If you live in California, you are well aware that the Space Shuttle Endeavour made its final flight (atop a specially outfitted 747) a few weeks ago.
It was a BIG BIG BIG deal.
Your Facebook stream could attest to that.
And for good reason.
With the Shuttle program now retired (boo!), the various shuttles are all ending up at their final resting points…with the Endeavour being the last of them making its way home.
In this case, to the California Science Center.
But to get there, it had to first fly from Florida, and has been hanging out at LAX for the last couple of weeks.
Beginning tomorrow, October 12th, it will begin its slow crawl 12 miles through the streets of Los Angeles to the museum.
BIG deal.
How's it getting there?
Being towed by a Toyota Tundra.
NBD.
Tomorrow night, guess who will have special media access to the first leg of the tow?
Yep.  Little old me.
As in, this is a private, super exclusive media event.
With only 50 people having clearance.
CNN.  NBC.  ABC….
Jeannett.
NOT EVEN KIDDING YOU.
I'm the only blogger given clearance.
For reals.
I'm kinda freaking out.
I mean, all these professionals with their majillion dollar cameras and lenses…and then there's me.
Jeannett.
Not-a-professional-photographer-just-a-SAHM-with-a-little-bitty-blog-of-pictures-of-her-kids-Jeannett.
I'm dying.
Both from excitement and from feeling RIDICULOUSLY inadequate and out of my league.
Hold me.
Our family happens to be really into space stuffs, but even if you aren't, I promise you that video will give you goosebumps.
Watch it.  Show it to your kids.
It's Americana at its finest.
And never gonna happen again.  Evah.
Legit for the history books.
Excuse me while I go throw up.
Disclosure: I was selected for participation in the TWIN community through a program with Clever Girls Collective. I did not receive any compensation for writing this post, or payment in exchange for participating. The opinions expressed herein are mine, and do not reflect the views of Toyota.