**The winner of the UNmanual is Bethany!  Congrats!!!**
Have you been enjoying our series so far?  I've asked bloggers to answer the prompt: "What didn't the baby books tell you?"  And I've loved the wide variety of answers.  Today's post by the uber talented Drew B is no exception.  My experience was different, but I totally get what Drew is saying and it resonates with me (a future blog post is brewing).  And don't forget to read all the way to the end for more information on our current fundraiser, and a giveaway!
Before I even told my husband I was pregnant, I ran to our book store and bought every baby book on the shelf. I was a Girl Scout. I like to be prepared. I read every week of "What to Expect When You're Expecting" on the day I turned that week. I was ready. Ready for my water to break. Ready to rush to the hospital. Ready for an extremely uncomfortable and long labor. Ready to love the baby that had been growing inside of me for 40 weeks and 3 days. My biggest fear is that I would poop while in labor.
What I wasn't prepared for was that I wouldn't necessarily like my baby. See, I had a tough labor and delivery. I KNOW people have gone through much worse than I did (we were both safe and that's all that mattered in the end), but it wasn't that text book labor and delivery that I was expecting. I ended up having preeclampsia 3 days past my due date. Went on "the mag" (magnesium sulfate), which is horrible and makes you feel completely out of it. Labored for 20 hours. Started bleeding pretty bad at five centimeters. And then, after all that, ended up with an emergency c-section. I was there physically when my son was born, but not there mentally or emotionally.
Because I was so drained physically and emotionally from the start, I never had the chance to bond with my son, Brayden.
I loved him. I would have given my life for him after only knowing him for a minute. But, to be totally and completely honest, I didn't like him. I saw him as this thing that was sucking the life out of me. I was a human vending machine. That was my sole purpose in life and I hated it. I desperately wanted to get back to work and find myself again. I told all of my friends not to have kids. To wait. I swore I would never have another child. Motherhood did not come easily to me. It wasn't natural. I've always been successful at everything I've done in my life and I felt a bit like a big, fat failure for not having that special bond with my son. Shouldn't that have happened during those 9 long months he was inside of me? I wasn't depressed, but I just wasn't happy.
It wasn't until he became more independent that I started to feel a connection with him. Around the time Brayden turned 4 months and started smiling and reciprocating feelings I did indeed start to like the kid.
He could hold his head up and I wasn't so scared that I would break him, he could entertain himself and play with toys, and I became more confident in my role as a mom. We eventually got that mother / son bond, but it just took a bit longer than normal.
I had a scheduled c-section with my daughter Kennedy (yes, I had another one after I swore off more children!). It was an easy birth and I bonded with her instantly. Right as I was nursing her for the first time. When she cried it hurt in my gut. I immediately felt such a connection with her. And I started to feel guilty that I didn't get that with Brayden. I felt jipped that I didn't get that with him. It wasn't until I had Kennedy that I realized how disconnected I had been from Brayden.
Brayden is 4 now and not only do I love him, but I like him. He is creative, smart, handsome, sensitive, and hilariously funny.
I love the way he sings Little Mermaid. He is the BEST big brother in the entire world.
I love the way he calls me his princess and how he shakes his booty before he gets in the bath. He is still demanding. But, I've realized he totally gets that from me.
We have a bond that can't be broken. It just took a little longer for us to get there. And I'm now okay with that. I am so proud and lucky to be his mama.
* * * *
Isn't this mommy thing totally unexpected?  Drew is SO right.  They don't tell you about this stuff in the baby books.  Or at least, I don't remember reading it!
Another thing they don't mention?
That your mama heart suddenly shreds itself to pieces at the thought of other babies…babies that aren't even yours…suffering.
Imagine having to give your babies dirty water.  Because you have no choice.  Knowing that it's likely contaminated and could very well KILL them.  But you have no choice.
Blech.  WORST. thing. ever.
So, let's band together: a bunch of 21st century moms helping out moms on the other side of the globe in a very 21st century way.
Let's help build a well.  I mean, why the heck not?  It's easy.  Takes but a few minutes.  And it's good.  So good.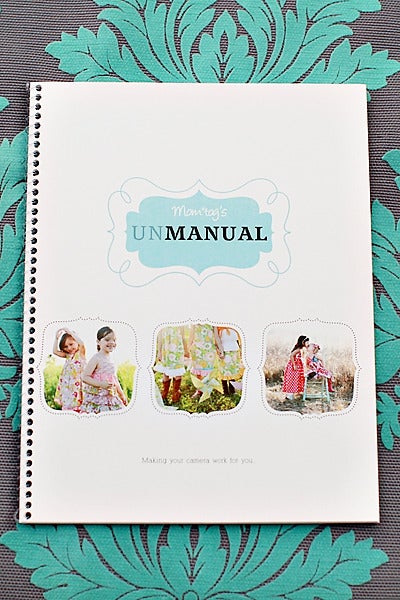 GIVEAWAY CLOSED
And Drew wants to sweeten the deal for you…she's giving away a copy of her UNmanual ($95 value).  "The UNmanual is a guide that explains why your DSLR camera does what it does… in English."
And if there is ANYONE I want teaching me how to use my camera, it is this girl.  Have you seen her pictures?  Seriously…just get lost on her site.  You'll die at least ten times over.
Here's how to enter:
1) Comment on this post.  (1 entry.  Mandatory.)
2) Share this post via Facebook, Twitter, Pinterest, or your blog.  There's even buttons below to make it easy! (1 entry max.  Even if you do all 4.)
3) DONATE to our fundraiser.  Please?  Pretty please?  (1 entry per dollar donated.  Unlimited entries.)