My mother in law has made quilts for each of my kids as babies.
In fact, she's made Henry a second quilt for his big boy bed too.
I adore each one she has made, but this last one for  Baby Walter is fantastically awesome.
I may or may not have been cuddling up with it the other night while watching Friday Night Lights on Netflix.
Gotta break it in, right?
It's so pretty and happy and bright that I just had to share with you guys.
Could you just die?!
It is made up of about 16 different fabrics (yes, 16!) because I'm bratty like that and wanted lots of color and differences.
The finished size is about 3′x4′ with finished squares of 3.75″ each.
(Because I know some of you will ask.)
She did the backing out of super soft aqua backing to make it extra cozy.
And even the binding is quilted using scraps from the various fabrics.
I've had people ask how I pick out the fabrics and how I decide what works together, so I thought I'd give you the non-crafty girls guide to how to choose fabrics for a quilt.
First, choose an "anchor fabric".  Basically, find something you love, love, love.
The colors.  The design.  The style.
In this case, I wanted to marry Bear in Cream by Sheri Berry Designs.
I loved the whimsical style, the happy colors, and that it was boyish without playing on the traditional cars/boats/baseball themes you typically see for boy gear.
(Although I did seriously consider this rocket ship print.  With an aerospace engineer for a dad, it would be a fun fit for our family, but I ultimately decided that the colors were a little too muted than I wanted and there weren't enough colors to match to.)
Now, most designer fabrics come in collections.
In this case, the bear fabric is part of a line called Woodland Tails.
In general, this can be really helpful.  After all, the colors are exact matches and the designer obviously designed them to go together.
The problem (for me) is that it starts to get a little too matchy matchy for my tastes.  Plus, some of it was a bit girly.  Don't get me wrong, I've seen DARLING quilts made up of all coordinating fabrics from the same line, but I like mixing and matching for a more eclectic look.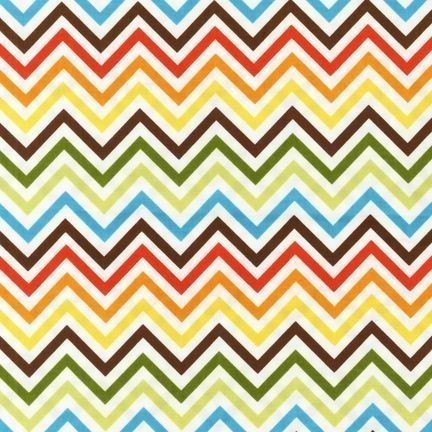 I also knew I wanted to use this Chevron Bermuda by Ann Kelle (generously gifted by my friend Andrea!!!)
The chevron fabric added more color variation to the bears stuff, while still being in the same color family.
Lucky for me (us?) Hawthorne Threads has a fantastic little tool called the color grid.  (They also have competitive pricing and super fast shipping.  I have no affiliation with them…they just happen to be my all time favorite online fabric shop.)
They show specific hues found in each fabric, and when you click on that color, a TON of fabrics that have that same color in them pops up.
You just keep clicking and before you know it, you're in a rabbit hole of fabric love.  Be sure to do this when you have some time…you might not get up from your seat for a while.
It can be hard to distinguish colors on a computer monitor, but they've made it easy…and I've found them to be very accurate.  I think there has only been one time we've ordered fabric that wasn't quite the right color as I had imagined.  The orange was more pinky-orange than the reddish-orange I was looking for.  My point being that this feature makes it a lot easier to order fabric online when you aren't standing in a store comparing full bolts to one another in person.
From there, I start plopping fabrics I like into my shopping cart at liberty.
Once I feel like I have a good amount, I look at my cart to see how it all looks together.  (I'd love for Hawthorne to develop a design board type of thing where you can drag and drop fabrics into to see them all next to eachother…but until then, the shopping cart works.  Hint, hint.)
My mother in law and I sat on the couch next to each other with our laptops…clicking and searching and browsing.  For HOURS.
We'd click over to the carts and realize "Oh, that's too much blue…we need some more browns…"  Or "wow, that's a lot of polka dots, we need to find some stripes…"
Ultimately, here are my biggest tips:
Find one fabric you adore and use it as the basis for your other picks.
Be bold in your selections.
Focus on matching colors rather than prints/styles.  Mix polka dots with stripes.  Argyles with houndstooth. While it seems counterintuitive to mix patterns that would otherwise look horrific in an outfit, it's what makes a quilt fun!
Use lots and lots of fabrics!  The more fabrics you use, the more varied and less "pre-made" it will look.
Try mixing unexpected colors.
Don't stick to one designer.  Think outside the pre-selected bundles!
When you (or the person you suckered into doing it for you) actually quilts it together purposely keep the "pattern" randomized.  Don't put it all together in a specific order.
Enjoy the process!
Did I miss anything here?
Do you have any tips/tricks for mixing and matching fabrics?