Kristen is the author of the crazy popular We are THAT Family blog.
She was asked by Compassion International to travel with a team of bloggers to travel to Africa and…well…blog about it.
Not only did Kristen blog about the trip, but upon returning it has turned her world upside down.
(if you are new to this site, check out the FAQ's and subscribe, follow, stick around!)
* * * *
"Sometimes I would like to ask God why He allows poverty, suffering, and injustice when He could do something about it."
"Well, why don't you ask Him?"
"Because I'm afraid He would ask me the same question."
(Anonymous) -a quote from A Hole in the Gospel, by Richard Stearn, President of World Vision.
I didn't plan to go to Africa. It wasn't a dream of mine, it didn't take up space on my bucket list.
I didn't want to fall in love with a far-away continent and long for a reunion.
I didn't think I'd ever be on this journey: an isolated road with an unknown destination.
I think God used my trip to Africa to get my attention, to help refocus my life. He used the poor to shake me up and the pieces of my life have landed to form a new picture. I'm not the artist anymore. He is painting my destiny.
And because of it, my life has been rearranged.
Some excerpts from some of Kristen's posts about her trip follow, but if you have the time, read them all HERE.  See the pictures.  Be changed.
When I sat in his closet-sized home in the middle of Africa, I couldn't take my eyes off the pathetic interior or ignore the dripping rain on my head.
I tried to not to imagine the "community toilet" he shared with neighbors adjoined by paper-thin walls or how far he walked each way to school everyday, in the dark, both ways.
The peace on his face was undeniable and the light that radiated from his eyes filled the dark room of his orphan-led home.
I didn't understand how he could be so content with so little. And I couldn't stop the question, "Why are you so happy? Why aren't you afraid?"
He looked at me as if I'd missed it entirely and said, "Because I have Jesus."
He didn't say anything else. It was a heavy statement. It was enough.
He was right, I had missed it. Entirely.
I equate Jesus to comfort and blessings. And when I sat in a hovel, a young boy called home, void of every comfort, I was envious of his contentment.
I returned to a lifestyle with every blessing, only wanting more.
I add Jesus like salt and pepper to a tasteless dish.
He isn't the main course, just an extra on the side.
Jesus isn't enough for me.
I think about my happiness that is clouded with every storm that blows into my life. I think about my happiness that is contingent upon what I have versus what I want. I think about my happiness and the strings I attach to it.
I think about a young boy who taught me more about Jesus and myself in a single sentence than my entire Bible College degree and 37 years of living.
One of the great lessons I learned in Africa: When Jesus isn't enough, something is wrong.
I'm on a quest to make it all about Jesus. It's easy surrounded by the comforts of my American life to melt back into the The American Way-bigger is better, more is what matters.
This is a painful journey, but more than anything, I want Him to be enough for me.
I feel more than guilt for such an easy life, accessible food, clean water and abundance. I feel aware. The blinders are gone. I can't pretend I don't know how the poorest of the poor live. I can't act like there aren't children who go to bed hungry. I can't ignore that 30,000 children die each day from preventable causes.
I can't stop thinking about Vincent, living as an orphan and father, in squalor. When I close my eyes at night, his face is what I see. I see him in his "home" that's not fit for an animal.
I can see clearly that I've become like my culture, living for myself, my family. Wasting a lot of time and money on things that simply don't matter to me anymore. Choosing ignorance over truth. Pretending poverty wasn't my problem or my responsibility.
I've asked God to reveal a new normal, to take this personal revelation and my everyday life and mix them together, creating something entirely different. And I've given Him the heavy burden that comes with such a revelation. His burden is easy and His yoke is light, so it's a pretty good exchange for me.
And true to her word, Kristen is changing things in her life.  Her kids are in on it too.
"Mom?" my daughter said, as she wiped down the countertops. "Do you know what my dream is?"
I stopped and listened. I knew this was going to be big.
"To fill our refrigerator with pictures of sponsored kids."
I cried.
My kids get it. They really do.
Is Jesus enough for you? If your happiness, like mine, is determined by how much or how little you have or the next exciting thing in your life, can I gently remind you to return to Him? He is waiting to be enough.
* * * *
To go along with every guest's story, I host a fundraiser of their choice.
This time, Kristen selected her twin sister's ministry: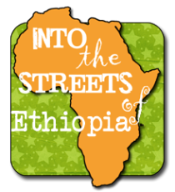 They have adopted a little girl from Ethiopia, and like many, were unexpectedly forever changed by the trip.
And, just for fun, every dollar you give, gives you a chance to win not one, but TWO prizes!!!!
On Valentine's Day, weeks before Kristen traveled to Africa, her husband gave her a precious gift (hand-beaten and carved copper):
He has handcrafted another one, for a reader of this post.
($65 value and not yet available for purchase!!!)
The lucky winner will also get:
They make the. most. beautiful. vinyl art ever.  ev.er.
I so have the perfect place in my house for this.
I die. I die.  I may have to rename one of my girls just so I can get this.
Um, pretty sure I *need* this.  Need.
Give $5, get 5 entries.  $14 = 14 entries.
Truly.
How much did you spend at Target last week?
Yeah, seriously.
The more you give, the better your chances!!!
You can also enter to win by subscribing to my blog.  Just be sure to leave me a comment in this post letting me know. (1 entry, no purchase/donation necessary).